T H E   H O U S E K E E P E R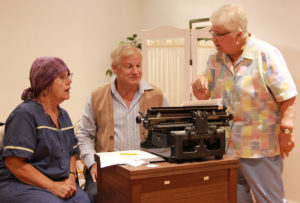 Highly-experienced director Kay Valentine (right) directs Lise Boily and Dave Sansom in rehearsals for the delightfully-hilarious Newmarket Stage Company production of THE HOUSEKEEPER, (Photos by Greg King)
a comedy by James Prideaux
Directed by Kay Valentine    Produced by Sue Meacock & Peter Salt
The ambitious and venerable Newmarket Stage Company is already in full rehearsals for its upcoming hilarious, over-the-top comedy, The Housekeeper, hitting Stage 426, the Newmarket Legion Opening Night Thursday, Sept. 5, with a very experienced cast of two!
Floundering after the death of his mother, a pompous, self-styled writer employs a housekeeper. When the housekeeper arrives, he is taken aback by her flippant attitude. The contrast in personalities has super funny and unexpected results!
And best of all, this is the second time the actors and director have paired up for this splendid comedy, written by James Prideaux, by special arrangement with Dramatists Play Service Inc! It's co-produced by theatre veteran Sue Meacock and also long-time theatre member Peter Salt.
Lise Boily from Mount Albert plays Annie, the Housekeeper with much enthusiasm and brings much experience to the stage.  The fuddy, duddy writer is played by David Sansom of Richmond Hill, who has been involved in many aspects of theatre for more than 20 years,  and the director is Kay Valentine of Aurora, who has worked on this play for two previous stage performances and is a local theatre veteran.
Since 1986, Lise Boily has appeared in many comedies and musicals in Guelph, London, Richmond Hill and Aurora, more recently winning both the regional and provincial awards for an 'outstanding performance' in the drama, 'The December Man.'
Dave Sansom says he is "having a blast" working on his third production of 'The Housekeeper' with Lise and Kay.  He has worked on more than 75 TV, film and stage productions including working with the Canadian Stage Company and Mirvish Productions. He has designed and built sets for summer theatre productions and now freelances as a Pyrotechnician and Sound Designer, among other things.
Director Kay Valentine of Aurora has been involved in community theatre for more than 40 years and was a founding member of two groups – the South Shore Little Theatre in Keswick and The Old Town Hall Players in Newmarket. She was with Theatre Aurora for several years and currently works with the Newmarket Stage Company and The Curtain Club. She has acted in and directed many productions. This is her second time directing 'The Housekeeper' with the same wonderful actors.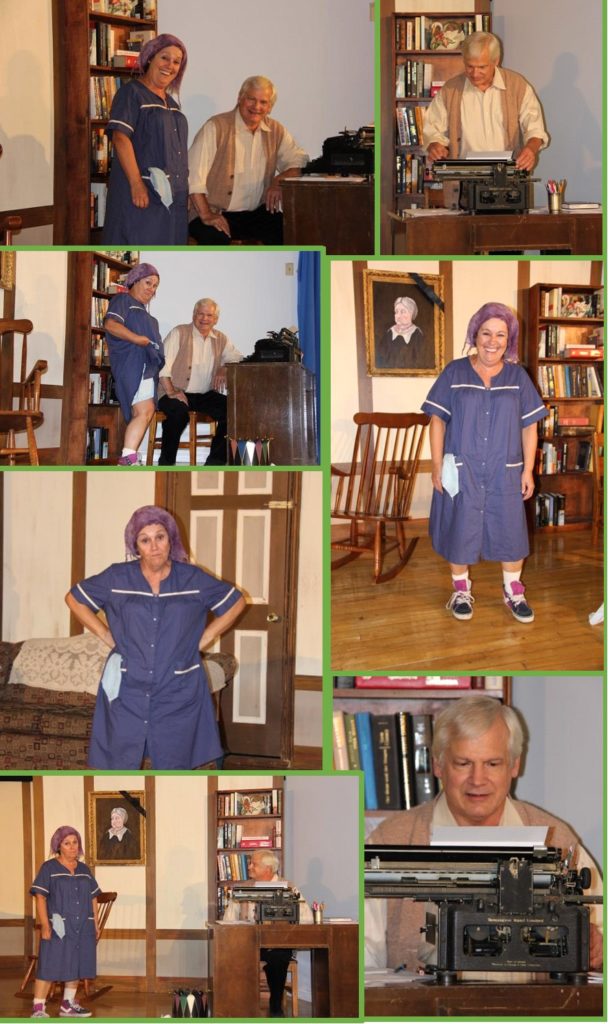 THE ODD COUPLE (Female Version)
by Neil Simon
Directed by Teri Hallatt   —   Produced by Sue Meacock
A hilarious female twist on 'The Odd Couple' will sure to be a hit with our patrons.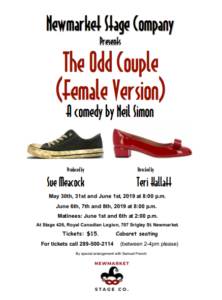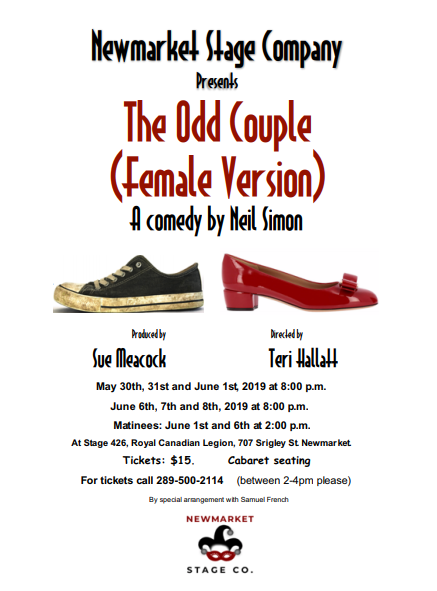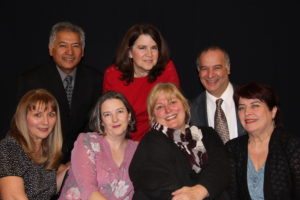 (Photo by Peter Salt)
The Cemetery Club 
by Ivan Menchell
You just never know what twists lie ahead in life! You just never know when you will meet someone, who just might turn your life around! And that's what the hilarious and heart-warming, 'The Cemetery Club' is all about – a chance meeting.  Three good friends who all share one big thing in common – all of their husbands have passed on.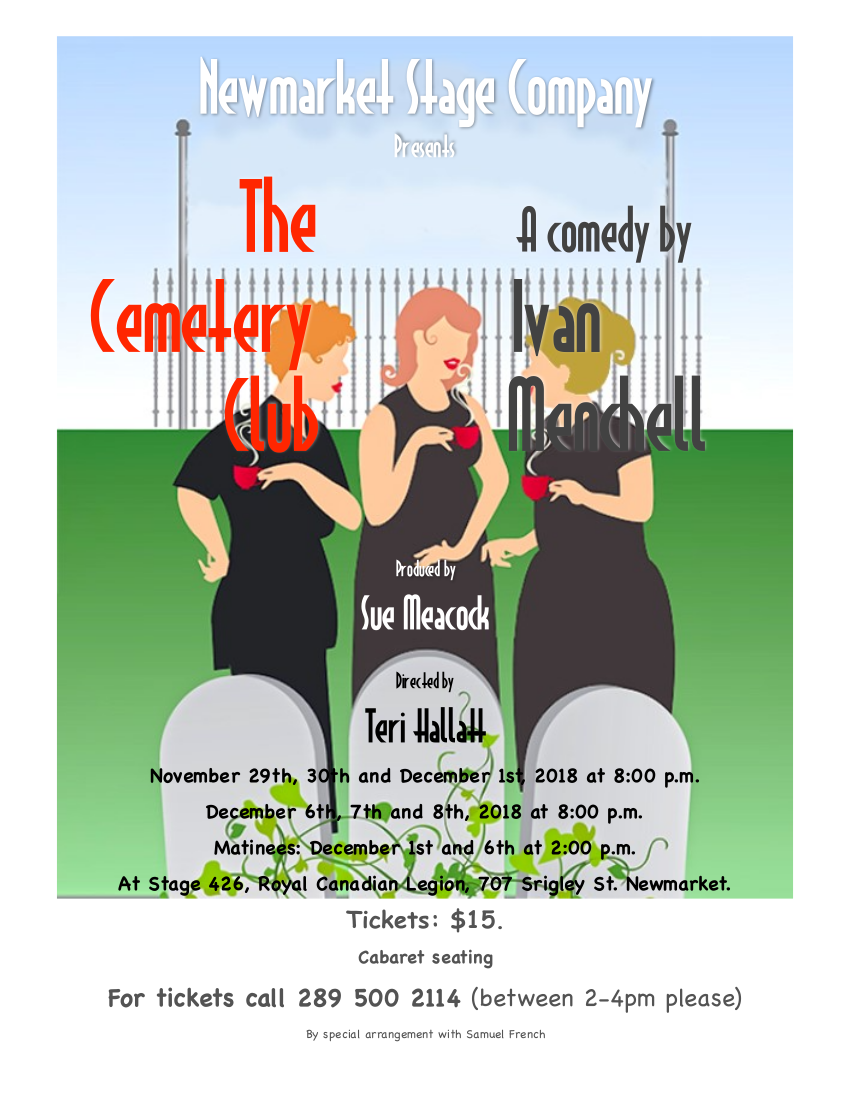 (Photo by Newmarket Snapd)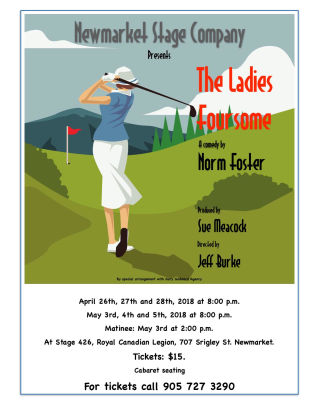 Directed by Jeff Burke       Produced by:  Sue Meacock
It's the day after the funeral of a friend, and three women gather for a round of golf in honour of their recently deceased playing partner. They are joined by a fourth woman, another old friend of the deceased that the other three didn't know about. During the game the women discuss life, love, men, sex, kids, careers..everything but golf. Many surprises, secrets and confessions come to the surface during this hilarious and heart-warming round of golf.   By special arrangement with Gary Goddard Agency.
 by Neil Simon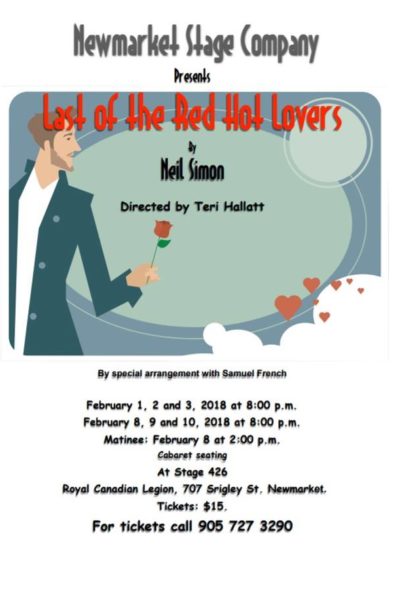 Directed by Teri Hallat     Produced by Sue Meacock 
Barney Cashman is forty-seven, happily married, the father of three children, a successful businessman, and a man going through a midlife crisis. Barney has come to the realization that his whole life can be summed up in one word: nice. And Barney has realized that "nice" simply isn't enough. He wants to experience his secret fantasies and dreams at least once, and so Barney determines to have an affair.   By special arrangement with Samuel French.
The Last Romance
 by Joe Di Pietro
A crush can make anyone feel young again — even a widower named Ralph who takes a different path on his daily walk leading to a second chance at love. "The Last Romance" is a heart-warming romantic comedy about the transformative power of love.   By special arrangement with Dramatists Play Services Inc.
by John Patrick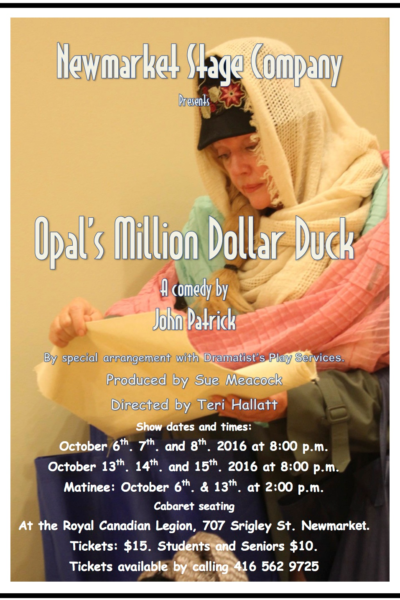 Produced by Sue Meacock     Directed by Teri Hallatt