UPCOMING SHOWS
pcoming/Past Shows"
Performances are presented at:  The Royal Canadian Legion – 707 Srigley Street
THE ODD COUPLE, Female Version 
a comedy by Neil Simon
Directed by Teri Hallatt     Produced by Sue Meacock
A hilarious female twist on 'The Odd Couple' will sure to be a hit with our patrons.
May 30, 31, June 1 and June 6, 7, 8 at 8pm and matinees June 1 & 6 at 2pm
THE HOUSEKEEPER 
a comedy by James Prideaux
Directed by Kay Valentine      Produced by Sue Meacock
This offbeat, delightfully zany comedy deals with the unlikely involvement which develops between a middle-aged, rather stuffy bachelor and the eccentric bag lady he hires as a housekeeper. "A hilarious comedy of amorous faux pas.
September 5, 6, 7,  12, 13, 14 at 8pm and matinees September 7 & 12 at 2pm
---
---
OUR PAST SHOWS
The Cemetery Club by Ivan Menchell
December 2018
You just never know what twists lie ahead in life! You just never know when you will meet someone, who just might turn your life around! And that's what the hilarious and heart-warming, 'The Cemetery Club' is all about – a chance meeting.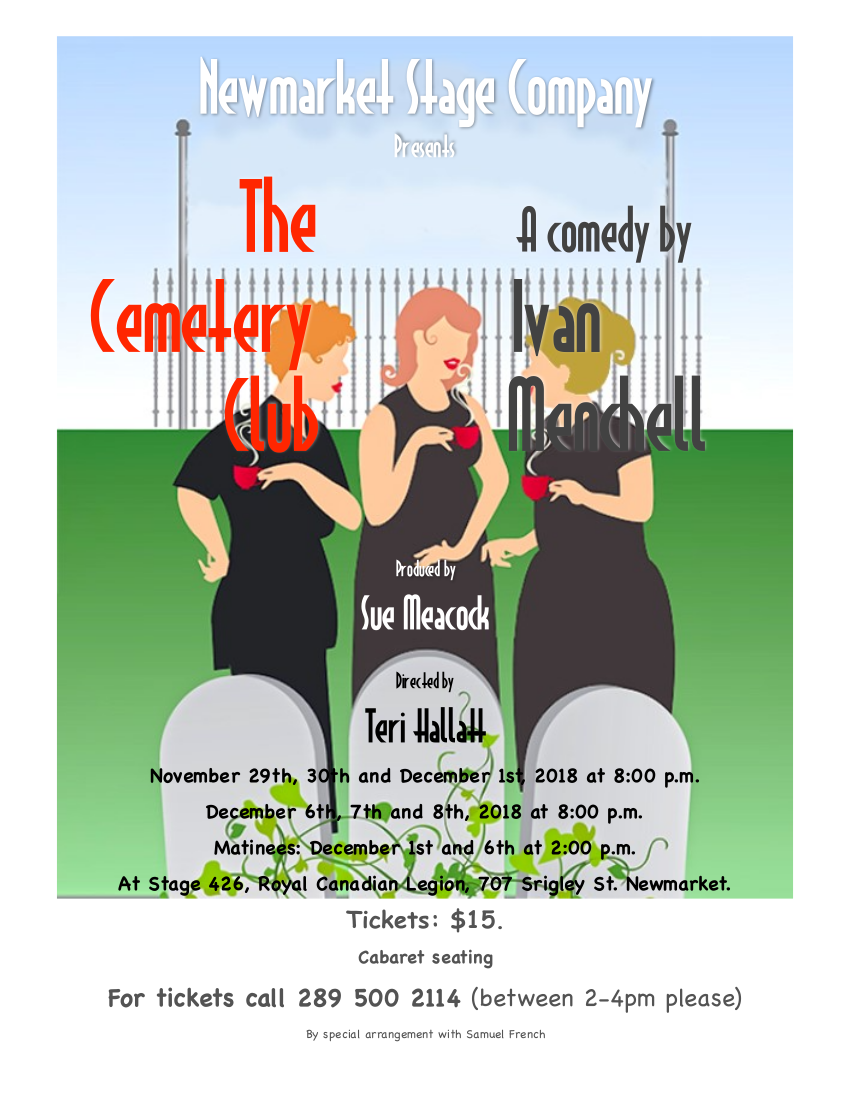 Three good friends who all share one big thing in common – all of their husbands have passed on, are played by Marlo Alcock as Ida; Susan Lane as Lucille; and Denise Kennedy plays Doris. You may remember theatre veterans Marlo Alcock from the World Premiere of 'Ace Galaski – The Race to Save Destiny' presented at the Old Town Hall in 2017 and Susan Lane had that spirited role in 'The Ladies Foursome', presented by the Newmarket Stage Company in spring of 2018. Denise Kennedy was the well-meaning sister in NSC's production of 'The Last Romance' and displayed some fine acting.
he lone male interest in this NSC production is Jeff Burke, who actually handily directed 'The Ladies Foursome' and lastly, but not least, also a theatre veteran, Zara Stuart-Jones plays Mildred. You may remember Zara, who had a big role in the NSC production of 'Opal's Million Dollar Duck.'
Tireless Sue Meacock produced this this Ivan Menchell comedy, with veteran Teri Hallatt directing and set by seasoned Peter Salt. With permission of Samuel French.

---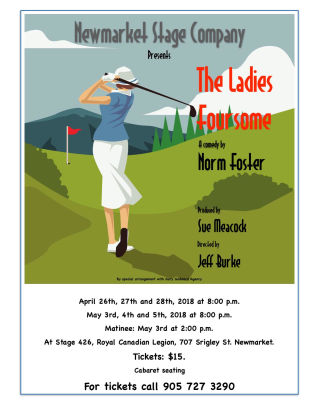 The Newmarket Stage Company is  busy working on the last play of the 2017-18 season with The Ladies Foursome — a comedy by Canada's most produced playwright, and Newmarket native, Norm Foster.
Directed by Jeff Burke with the fantastic foursome,…Jo-Anne Pulfer, Susan Lane, Joanna Kaufman and Julie Wood.
It's the day after the funeral of a friend, and three women gather for a round of golf in honour of their recently deceased playing partner. They are joined by a fourth woman, another old friend of the deceased that the other three didn't know about. During the round the women discuss life, love, men, sex, children, careers…everything but golf. Many surprises, secrets and confessions come to the surface during this hilarious and heart-warming round of golf.
By special arrangement with Gary Goddard Agency.
---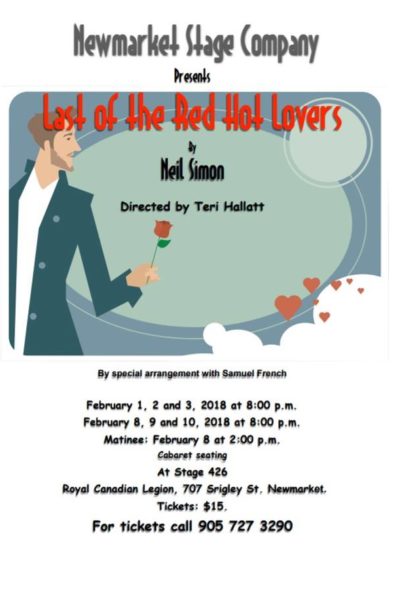 Directed by Teri Hallat     Produced by Sue Meacock 
Barney Cashman is forty-seven, happily married, the father of three children, a successful businessman, and a man going through a midlife crisis. Barney has come to the realization that his whole life can be summed up in one word: nice. And Barney has realized that "nice" simply isn't enough. He wants to experience his secret fantasies and dreams at least once, and so Barney determines to have an affair.
By special arrangement with Samuel French.
---
---
The Last Romance by Joe Di Pietro
Directed by Kay Valentine
A crush can make anyone feel young again — even a widower named Ralph who takes a different path on his daily walk leading to a second chance at love. "The Last Romance" is a heart-warming romantic comedy about the transformative power of love.
By special arrangement with Dramatists Play Services Inc.
---
---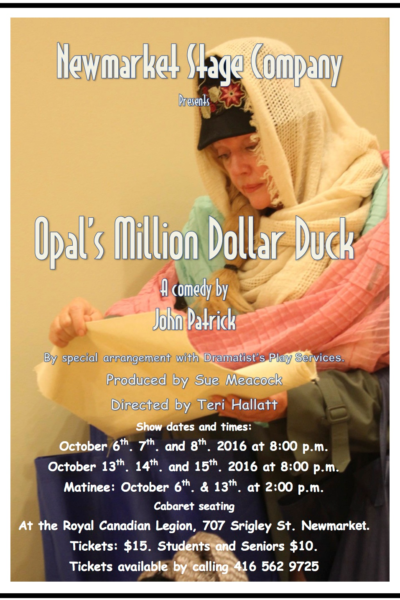 Produced by Sue Meacock     Directed by Teri Hallatt
October 6th, 7th, 8th, 13th, 14th, and 15th 2016 at 8:00pm
Matinee: October 6th and 13th at 2:00pm
---
---