COVID-19 NOTICE
Due to concerns for the health of our cast and patrons, as well as the social distancing protocol of the current COVID-19 virus, Newmarket Stage Company has decided to cancel our productions for now. We would like to thank all our patrons for supporting us through the years. Once we get through this trying time, we will post our slate of plays for the upcoming theatre season. 
Stay tuned and stay safe!
NSC GIVES BACK TO THE COMMUNITY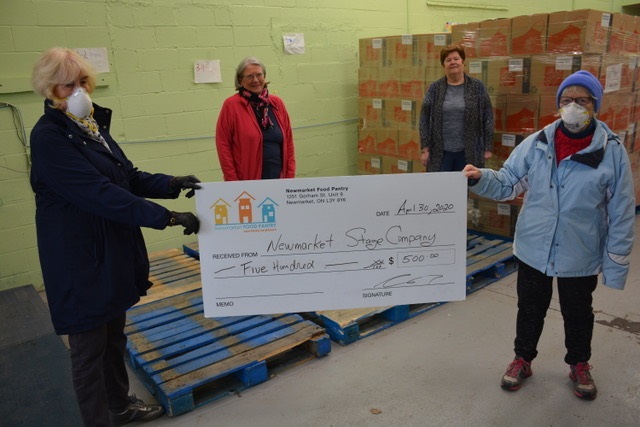 Written and Photo by Rod Urquhart
The venerable Newmarket Stage Company is rapidly becoming not only a great provider of local theatre and entertainment, but also an organization of philanthropists – giving back to the community it serves.
Patrons of the Newmarket Stage Company productions should know that not only are they seeing excellent theatre when attending, they are also part of this giving back to the community the NSC campaign is now doing – and has been doing for some time.
Prior to Covid-19 hitting our community, the Newmarket Stage Company produced the highly-successful rendition of 'Steel Magnolias', which was practically sold out each of its performance nights.
During 'Steel Magnolias', the NSC held Bandaid and Chapstick Sales for its draw during the production and $1,076., (including a top up from the Amigos and one patron donating his winnings), was raised and donated to Southlake Regional Hospital's Diabetes program. As Susan Mullin CFRE, President and CEO of the Southlake Foundation and Corina Jones, Community Events Officer wrote to the NSC:
"Thank you and everyone in the Newmarket Stage Company's Production of Steel Magnolias for your donation of $1,076.35! Your generous donation will provide Southlake's Diabetes Education Centre with additional resources including glucose monitoring sensors. These sensors are easily worn on the body and provide real-time readings that help both patients and staff in building care strategies as unique as the people who rely on them."
Realizing these are special times, with everyone practicing social distancing and staying at home, the fabulous and necessary work of the Newmarket Food Pantry continues, with deliveries being made to those who are most needy.
The Newmarket Stage Company, in its philanthropist role, once again reached out, and Thursday, April 30, presented to the Newmarket Food Pantry's Judy Poulin, Executive Director and Elizabeth Blight, Co-ordinator, with a cheque for $500. to this very worthy organization. It was greatly appreciated, they said, as the need was great and would go towards fresh foods.
Recently, Debora Kelly, the Community Editor of newmarkettoday.ca, sent out a request to support this very worthy local news outlet website with funding. During Covid-19, every business is being hit hard and newmarkettoday has proven to be a necessary site for information in Newmarket. The Newmarket Stage Company saw this valuable need and donated $500. to newmarkettoday – once again flexing its philanthropist arm.
The Newmarket Stage Company has a long history of giving back to the community – it's a charitable organization that is not interested in building up its bank account. Following its production of 'The Housekeeper' in fall 2019, it also donated $404. to Newmarket's very worthy Inn From The Cold.
So you see, as mentioned, when you support the Newmarket Stage Company, you are not only being entertained by quality theatre, but you are helping those in need in our community.
Stay safe, don't go out unless you have to, wash your hands, and don't touch your face – remember to social distance! And Newmarket Stage Company will be back to entertain you in 2021!

NSC DONATES TO DIABETES PROGRAM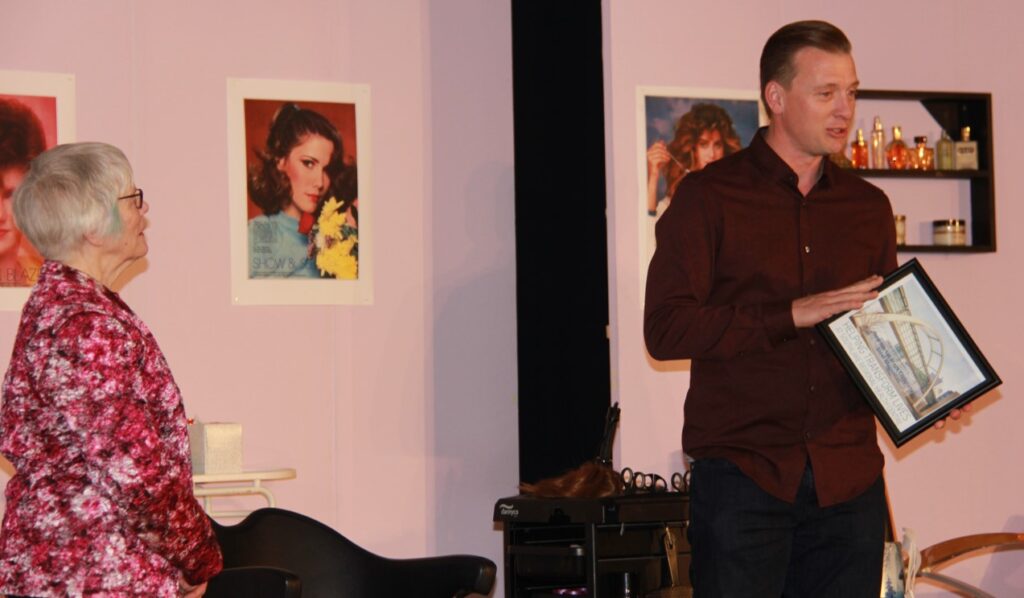 Written by Rod Urquhart
The venerable Newmarket Stage Company, in its final presentation of 'Steel Magnolias' made more than a $1,000 donation to Southlake Diabetes Education Program and its representative, Mark Russell.
The cheque presentation was made by NSC President Diane Ament on the final Saturday night performance of 'Steel Magnolias'. The NSC chooses a charity to give a cash donation to for each of its productions. Since 'Steel Magnolias' dealt with diabetes, it was only fitting that the charity chosen for this production was Southlake Diabetes Education Program.
NSC had a Band-Aid and Chapstick 'sale' for this production's draw. Initially $727.93 was raised for diabetes and presented to Russell. He said a group he is involved with, called The Amigos, would actually top up the donation to $1,000. In a generous move, a member of the audience who won the evening's draw, donated his winnings to Russell – so the total donation to Southlake was $1,076.35.
Overall, the presentation of 'Steel Magnolias' by NSC was an overwhelming success, with many nights and matinees completely sold out. This is despite some questionable weather some days, and much time prior to the Covid-19 pandemic hitting.
"I was so pleased that we attracted the audiences that we did," noted NSC President Diane Ament. "It shows us that community theatre is alive and well in Newmarket and we are filling a niche. It just warmed my heart!"
The Board of the Newmarket Stage Company is now working virtually from their self-isolation to get ready a slate of plays for its 2020/2021 season. The Board wants to be up and running, feet to the ground so to speak, when sanctions due to the Covid-19 pandemic are lifted and everything gets back to normal.
And like all of you reading this, we are hopeful this pandemic will pass eventually and we will indeed have a spectacular season awaiting you!
Stay tuned to this website for more information on our upcoming 2020/2021 season of plays, which we guarantee will thrill, entertain and help bring our community together once again!