COVID-19 NOTICE
Out of concern for the health of our cast and patrons, and due to the social distancing protocol of the current COVID-19 virus, Newmarket Stage Company has decided to cancel our spring production – OPAL'S HUSBAND
We would like to thank all of our patrons for a successful, though short, season of THE HOUSEKEEPER and STEEL MAGNOLIAS.
Once we get through this trying time, we will post our slate of plays for the upcoming 2020-21 theatre season. Stay tuned. Until then stay healthy, keep positive and please check back with us soon.
NSC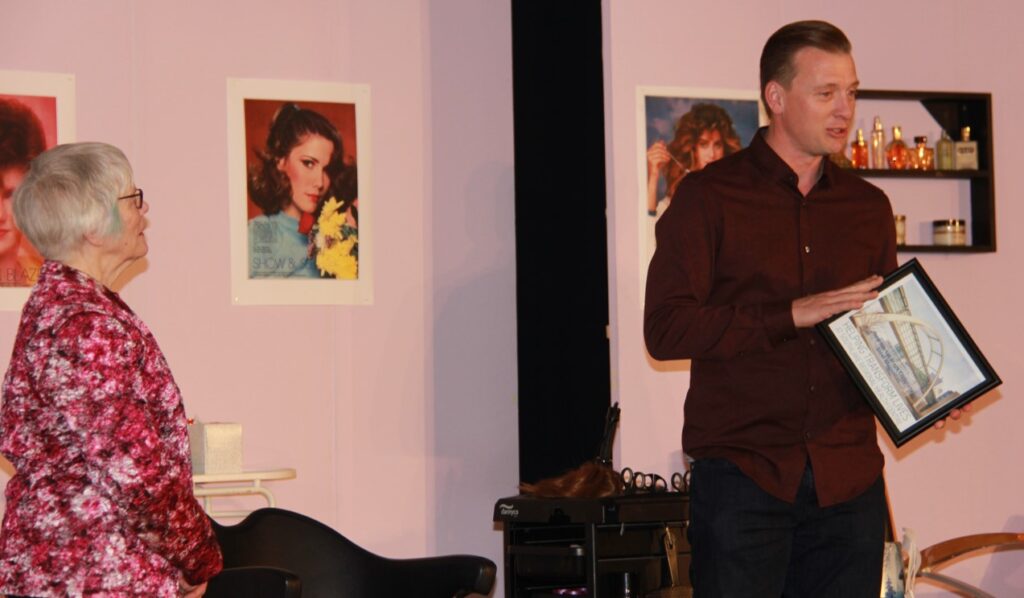 Newmarket Stage Company
Donates to Diabetes Program
By Rod Urquhart
The venerable Newmarket Stage Company, in its final presentation of 'Steel Magnolias' made more than a $1,000 donation to Southlake Diabetes Education Program and its representative, Mark Russell.
The cheque presentation was made by NSC President Diane Ament on the final Saturday night performance of 'Steel Magnolias'. The NSC chooses a charity to give a cash donation to for each of its productions. Since 'Steel Magnolias' dealt with diabetes, it was only fitting that the charity chosen for this production was Southlake Diabetes Education Program.
NSC had a Band-Aid and Chapstick 'sale' for this production's draw. Initially $727.93 was raised for diabetes and presented to Russell. He said a group he is involved with, called The Amigos, would actually top up the donation to $1,000. In a generous move, a member of the audience who won the evening's draw, donated his winnings to Russell – so the total donation to Southlake was $1,076.35.
Overall, the presentation of 'Steel Magnolias' by NSC was an overwhelming success, with many nights and matinees completely sold out. This is despite some questionable weather some days, and much time prior to the Covid-19 pandemic hitting.
"I was so pleased that we attracted the audiences that we did," noted NSC President Diane Ament. "It shows us that community theatre is alive and well in Newmarket and we are filling a niche. It just warmed my heart!"
The Board of the Newmarket Stage Company is now working virtually from their self-isolation to get ready a slate of plays for its 2020/2021 season. The Board wants to be up and running, feet to the ground so to speak, when sanctions due to the Covid-19 pandemic are lifted and everything gets back to normal.
And like all of you reading this, we are hopeful this pandemic will pass eventually and we will indeed have a spectacular season awaiting you!
Stay tuned to this website for more information on our upcoming 2020/2021 season of plays, which we guarantee will thrill, entertain and help bring our community together once again!