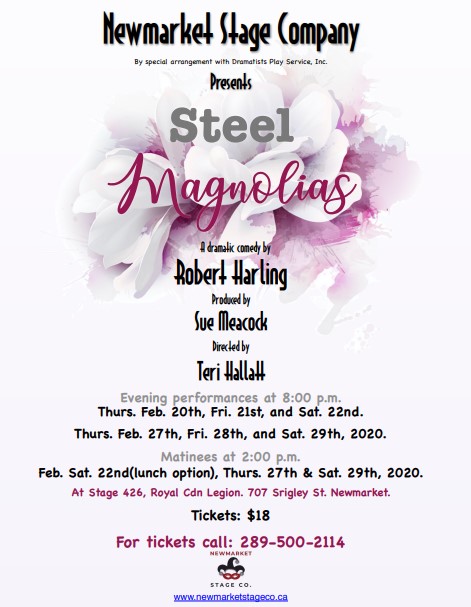 Blockbuster of a story on stage thanks to NSC
By Rod Urquhart / Special
You probably remember the film version of 'Steel Magnolias', which came out a number of years ago with the superstar cast including the sensational trio of Sally Field, Dolly Parton and newcomer Julia Roberts.
Now is your chance to see it upfront, on stage, and personal at the Royal Canadian Legion in Newmarket at the end of February. Yes, that's right, the venerable Newmarket Stage Company is bringing back this funny, yet touching, play – right here in Newmarket.
Famed actress Julia Roberts played Shelby in the blockbuster film version of this play about a bond a group of women share in a small-town Southern community and how they cope with the problems of life – a classic in its own right!
Featured performer Susan Lane plays the Sally Field role of M'Lynn; another veteran to the NSC stage, Denise Kennedy, plays the Dolly Parton role of Truvy; NSC newcomer Bethany Heemskerk plays the Julia Roberts role of Shelby. Cheidre Kyle Mackey is back with NSC as Annelle; another NSC newcomer Kyla Da'Aguiar plays Clairee; and back for another role is NSC regular Carol Dowell as the spirited Ousier.
Produced by NSC theatre veteran Sue Meacock and skillfully directed by Teri Hallett, this play has been in rehearsals since November. It's ready to hit the stage Feb. 20, 21, 22, 27, 28, 29 at 8 p.m. and features three matinees, Saturday, Feb. 22 and 29th and Thursday, Feb. 27 at 2 p.m.
And Big News – Hold the Press – for the first time in its long history, the Newmarket Stage Company is offering 'Lunch and Theatre' starting at noon Saturday, Feb. 22. That's right, for a mere $10 for a tasty, light lunch and $18 for the theatre, for a total of $28, you get a meal and live theatre all in the same location, at Stage 426, the Newmarket Legion. Only 70 lunch-plus-theatre tickets will be sold for this date. (Note: only 30 theatre-only tickets will be available for this Saturday, Feb. 22, with show-only, patrons arriving after 1:15 p.m.)
The dramatic comedy of 'Steel Magnolias' features a stellar cast, as mentioned have been in rehearsals three times a week since November, getting perfectly prepared for this venerable classic play. The cast includes:
Cheidre Kyle Mackey plays Annelle. She is thrilled to be returning to the stage with Steel Magnolias. Cheidre has enjoyed every moment of bringing Annelle to life. With credits like 'Hairspray', 'Legally Blonde', 'Last of the Red Hot Lovers', and the 'Gingerbread Lady' under her belt, playing Annelle has been a challenging and rewarding departure. Collaborating with this cast and crew has been a delight and a privilege, says Cheidre. Enjoy the show!
Denise Kennedy is playing Truvy and is very happy to be following her bliss with this cast and all the great, hard-working people that make up The Newmarket Stage Company! Talk about dedication! Her past credits include 'The Odd Couple (Female Version)', 'The Cemetery Club' and 'The Last Romance'/Newmarket Stg Co., 'Grandma Kurnitz'/'Lost in Yonkers' (QP Keswick and Blackhorse Theatre), 'Steel Magnolias' and 'Sinners'/The Curtain Club, Marquee Productions/'Man of LaMancha', South Simcoe Theatre/Fireworks and Theatre Aurora/'Having Hope at Home', 'Jenny's Story' and 'California Suite'. Heartfelt gratitude to Sue Meacock and Teri Hallatt — the journey has been another one for the memory book! Says Denise. "To our audience, thank you so much for your continued support of our little community theatre with the biggest heart! Enjoy the show!"
Susan Lane plays M'Lynn. A longtime resident of Newmarket, Susan Lane is delighted to be back onstage with The Newmarket Stage Company. She applauds the amazing talent of the cast and crew of 'Steel Magnolias', the hard-working Board members and "our wonderful patrons who make these productions possible."
Carol Dowell is playing the part of Ousier. Carol's first acting began in Kindergarten where she played the role of Goldilocks in 'Goldilocks and the Three Bears'. After a long absence from the theatre, she helped out backstage with props and as stage manager. In 2019, she appeared in 'The Odd Couple (Female version)' as Vera with the Newmarket Stage Company. She is thrilled to be cast in 'Steel Magnolias' and working alongside of many talented and seasoned actors. "Thanks to everyone for their support and guidance," says Carol.
Bethany Heemskerk, who plays Shelby, is classically trained from the University of Victoria. Bethany has acted in over 20 plays from Shakespeare to Thornton Wilder. Recent credits include Lacy Graham in 'My Narrator' (Very Useful Theatre Company), Emily Webb in 'Our Town' (New Stages Theatre Company), and Mandy Prendergast in 'Eclipsed' (Peterborough Theatre Guild). She is excited for her first show with Newmarket Stage Company.
Kyla D'Aguiar is playing Clairee. This Manitoba girl fell in love with the stage at the age of 12, performing in musicals like the 'Music Man' and 'Mame'. She also tried her hand at dinner theatre and English pantomime before switching priorities to career and family. Kyla is returning to the theatre after a 25-year hiatus. This is her first foray into the Newmarket theatre scene since moving here six years ago. "It has been a pleasure working with the wonderful ladies of the Steel Magnolias cast and crew!" she says.
A portion of the shared cash draw will be donated to the Southlake Regional Centre-Diabetes Program. 'Steel Magnolias' is presented by special arrangement with Dramatists Play Services Inc. The dramatic comedy is written by Robert Harling. Tickets at a mere $18 each, are available by calling the box office at 289-500-2114 between 2 and 4 p.m. weekdays. Stage 426, Newmarket Legion, 707 Srigley Street, features comfortable cabaret seating. For more information, visit: newmarketstageco.ca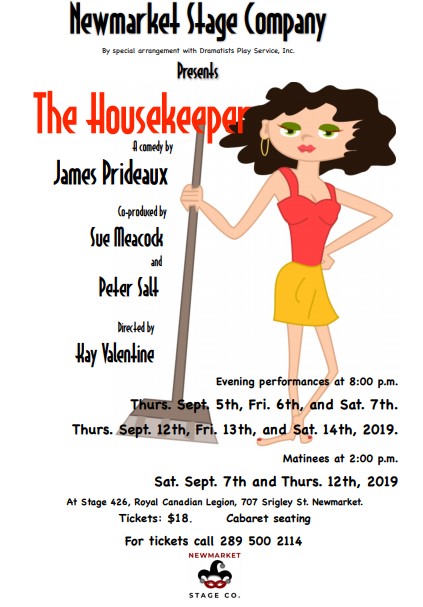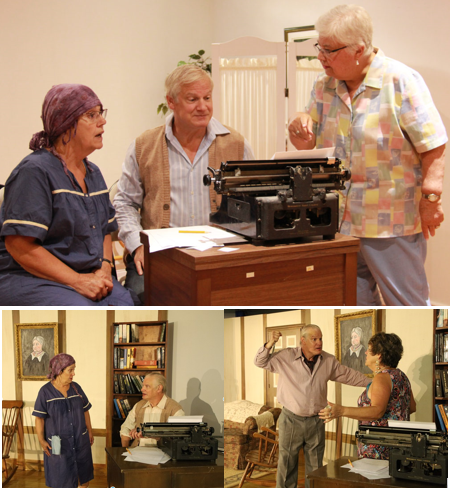 Brilliant acting highlights 'The Housekeeper'
By Rod Urquhart, Theatre Review
Simply brilliant acting highlights the Newmarket Stage Company presentation of 'The Housekeeper', which continues Thursday, Sept. 12, 13 and 14 at 8 p.m. and 2 p.m. on Thursday, Sept. 12, at Stage 426, the Newmarket Legion.
Lise Boily portrays Annie, a wanna-be housekeeper, who is down on her luck and finally thinks she can settle down in comfort in an old mansion at the edge of town. Lise, who has portrayed Annie before in this play is superb – really nailing down the role with humour, grace and wit, not to mention some fine acting.
Dave Sansom is Manley, the eccentric writer who employs this housekeeper after the death of his mother. What develops is twists and turns with surprising results and a constant up-beat dialogue between Annie and Manley.
Sansom deftly handles the role of a self-styled writer and it's quite apparent, this is a role he is quite enthused about doing – bringing to life a rather sheltered man who hides behind his typewriter.
As a member of the audience, you are riveted by the manipulation of the characters by these two gifted actors! It's a play that is not to be missed, written by James Prideaux and presented with special arrangement with Dramatists Play Services Inc.
Seasoned theatre veteran Kay Valentine guides these two talented actors through a mirage of dialogue and movement with the hand of a perfectionist. Kudos to Kay and co-Producers Sue Meacock and Peter Salt.
Again, it's an exceptional set, which really suits this play, by Peter Salt and Michel Boily. Carol Dowell is Stage Manager, costumes are by Kay Valentine and lights by Mark Hayward. Sound is by Nicole Hayward and Sara Hayward. Susan Lane adeptly handles Box Office and Front of House is managed by Alexis Ritchie, Karin Schrew, Jill Hayward and NSC members. Props are by Lynda Fraser and promotion is handled by Rory Rodrigo.
As mentioned, the play continues next week and tickets are a mere $18, available by calling the Box Office between 2-4 p.m. at 289-500-2114. It on Stage 426, the Newmarket Legion, at 707 Srigley Street, and features cabaret seating and refreshments are available.
All in all, yet another winning production by the venerable Newmarket Stage Company!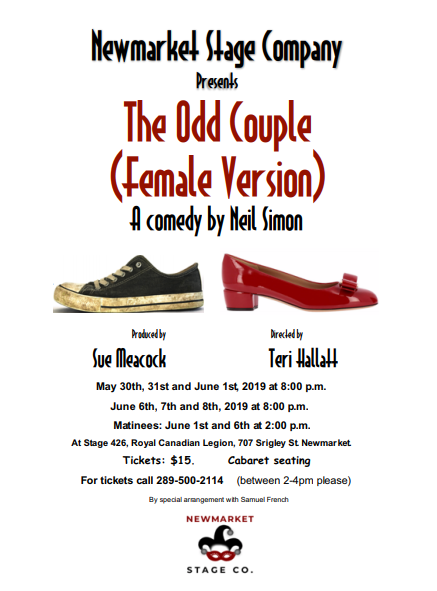 THEATRE REVIEW – THE ODD COUPLE (Female Version)
By Rod Urquhart – Theatre Critic
'Marlo, Denise bring ODD COUPLE (Female Version) to 'life'
We all know the premise of Neil Simon's Odd Couple saga – the neurotic and the slob. But what happens if this is applied to females? You'll just have to come out to Stage 426, the Newmarket Legion, to see the hilarity that the Newmarket Stage Company serves up with 'THE ODD COUPLE (Female Version).
Marlo Alcock, a very seasoned actor, is simply a stand-out in the rather daunting role as Florence – a woman kicked out of the house by her husband after 14 years, because her neurosis was driving him crazy. Marlo even perfected moose calls – you'll just have to see it to believe it. She handles the role of Florence with skill and precision.
Denise Kenny, another veteran of the stage, has the main role as Olive, the TV executive who is basically a slob – who knows it and relishes her role. Denise handles the role with dexterity, bringing to life the hostility that can build in a relationship.
The actual witty and entertaining factor of this play is raised a superior notch with the entrance of Spanish brothers Fabian Levy-Hara as Manolo and Rory Rodrigo as Jesus in the second act. As supposed romantic interests of Olive and Florence, Fabian and Rory from their entrance to the end of the play, add high amusement. Fabian is a veteran actor and this is Rory's foray into live theatre and have their roles down pat, and are a joy to witness.
The four girlfriends who come over weekly for a game of Trivial Pursuit (no, they don't play poker like the male version), are played with enthusiasm by veterans of the stage Barb Jones, Julie Foster and Erin Wrightson and enthusiastic newcomer Carol Dowell. They all bring a sense of camaraderie to their roles – and all are worried about Florence. Erin Wrightson as Mickey the New York Cop stood out among this weekly foursome.
The hard-working, seasoned director is Teri Hallett, who has many productions under her belt. Her close attention to detail is quite evident in this amusing play – bringing out perfect comedic timing in Florence and Olive.
Another Newmarket Stage Company skilled-hand is producer Sue Meacock. Those of you who know Sue, know that nobody works harder in a production and it is Sue that deserves the credit for bringing The Odd Couple – (Female Version) to the actual live theatre stage. Her attention to detail is impeccable.
The ODD COUPLE (Female Version), with permission of Samuel French, features an extensive set, designed by Peter Salt and constructed by Alf Judd, Nick Butler and Paul Wrights. Seasoned stage hand Noreen Aldridge is the stage manager, with sound by Sara Hayward and Nicole Hayward and lights by Mark Hayward. The solid costumers are by Fran Wachna and Susan Livingston. Alexis Richie gets a nod as a newcomer who took over Front of House! (With help from Karin Schrew, Jill Hayward and members of NSC).
President of the Newmarket Stage Company is Diane Ament, and stresses they are always looking for new members and new faces and urges those interested to attend the NSC Annual General Meeting on Tuesday, June 18 at 7 p.m. at the Lions Community Centre on Doug Duncan Dr.
The NSC will next present 'THE HOUSEKEEPER'' by James Prideaux in September – "a would-be housekeeper tries to convince a writer to employ her with hilarious results". Stay tuned for more as the date approaches.
The ODD COUPLE (Female Version) continues June 6, 7, and 8, at 8 p.m. with a 2 p.m. matinee on June 6. Tickets are only $15. Call the Box Office at 289-500-2114 between 2 and 4 p.m. daily. If you are looking for a night out, something quite entertaining and off-beat, I highly recommend this play!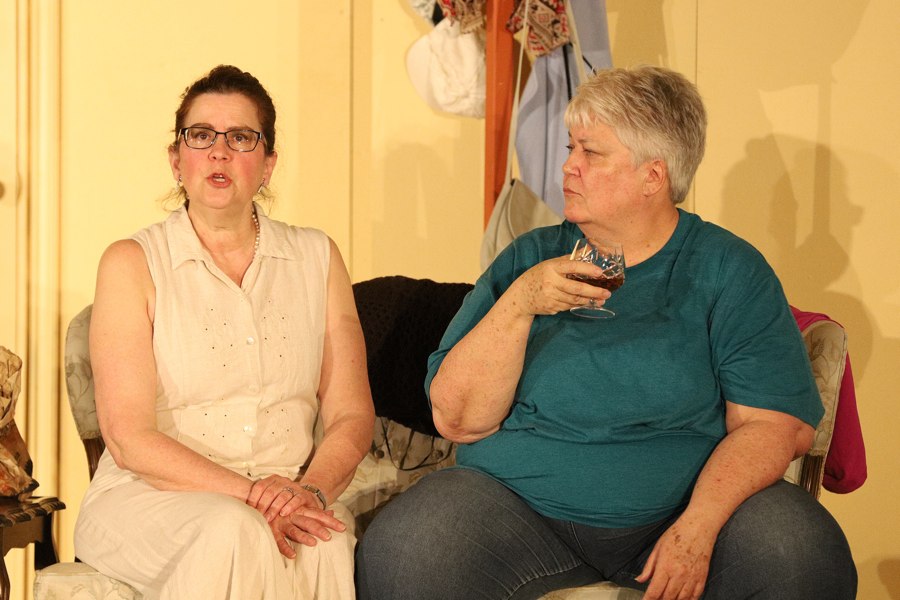 THE CEMETERY CLUB By Rod Urquhart Some really outstanding, quite believable acting highlights the current presentation of Ivan Menchell's heart-warming, yet hilariously funny, 'The Cemetery Club', currently on stage at…