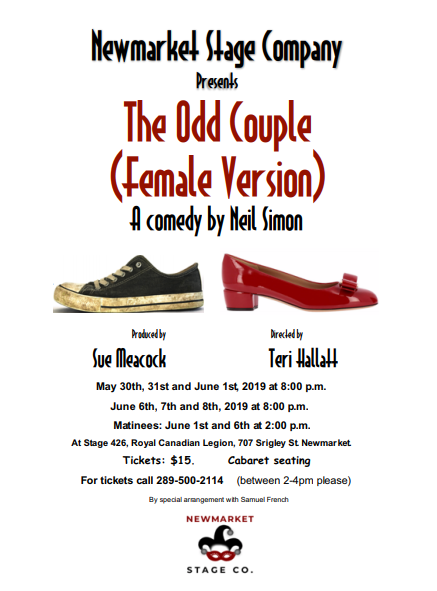 THEATRE REVIEW – THE ODD COUPLE (Female Version)
By Rod Urquhart – Theatre Critic
'Marlo, Denise bring ODD COUPLE (Female Version) to 'life'
We all know the premise of Neil Simon's Odd Couple saga – the neurotic and the slob. But what happens if this is applied to females? You'll just have to come out to Stage 426, the Newmarket Legion, to see the hilarity that the Newmarket Stage Company serves up with 'THE ODD COUPLE (Female Version).
Marlo Alcock, a very seasoned actor, is simply a stand-out in the rather daunting role as Florence – a woman kicked out of the house by her husband after 14 years, because her neurosis was driving him crazy. Marlo even perfected moose calls – you'll just have to see it to believe it. She handles the role of Florence with skill and precision.
Denise Kenny, another veteran of the stage, has the main role as Olive, the TV executive who is basically a slob – who knows it and relishes her role. Denise handles the role with dexterity, bringing to life the hostility that can build in a relationship.
The actual witty and entertaining factor of this play is raised a superior notch with the entrance of Spanish brothers Fabian Levy-Hara as Manolo and Rory Rodrigo as Jesus in the second act. As supposed romantic interests of Olive and Florence, Fabian and Rory from their entrance to the end of the play, add high amusement. Fabian is a veteran actor and this is Rory's foray into live theatre and have their roles down pat, and are a joy to witness.
The four girlfriends who come over weekly for a game of Trivial Pursuit (no, they don't play poker like the male version), are played with enthusiasm by veterans of the stage Barb Jones, Julie Foster and Erin Wrightson and enthusiastic newcomer Carol Dowell. They all bring a sense of camaraderie to their roles – and all are worried about Florence. Erin Wrightson as Mickey the New York Cop stood out among this weekly foursome.
The hard-working, seasoned director is Teri Hallett, who has many productions under her belt. Her close attention to detail is quite evident in this amusing play – bringing out perfect comedic timing in Florence and Olive.
Another Newmarket Stage Company skilled-hand is producer Sue Meacock. Those of you who know Sue, know that nobody works harder in a production and it is Sue that deserves the credit for bringing The Odd Couple – (Female Version) to the actual live theatre stage. Her attention to detail is impeccable.
The ODD COUPLE (Female Version), with permission of Samuel French, features an extensive set, designed by Peter Salt and constructed by Alf Judd, Nick Butler and Paul Wrights. Seasoned stage hand Noreen Aldridge is the stage manager, with sound by Sara Hayward and Nicole Hayward and lights by Mark Hayward. The solid costumers are by Fran Wachna and Susan Livingston. Alexis Richie gets a nod as a newcomer who took over Front of House! (With help from Karin Schrew, Jill Hayward and members of NSC).
President of the Newmarket Stage Company is Diane Ament, and stresses they are always looking for new members and new faces and urges those interested to attend the NSC Annual General Meeting on Tuesday, June 18 at 7 p.m. at the Lions Community Centre on Doug Duncan Dr.
The NSC will next present 'THE HOUSEKEEPER'' by James Prideaux in September – "a would-be housekeeper tries to convince a writer to employ her with hilarious results". Stay tuned for more as the date approaches.
The ODD COUPLE (Female Version) continues June 6, 7, and 8, at 8 p.m. with a 2 p.m. matinee on June 6. Tickets are only $15. Call the Box Office at 289-500-2114 between 2 and 4 p.m. daily. If you are looking for a night out, something quite entertaining and off-beat, I highly recommend this play!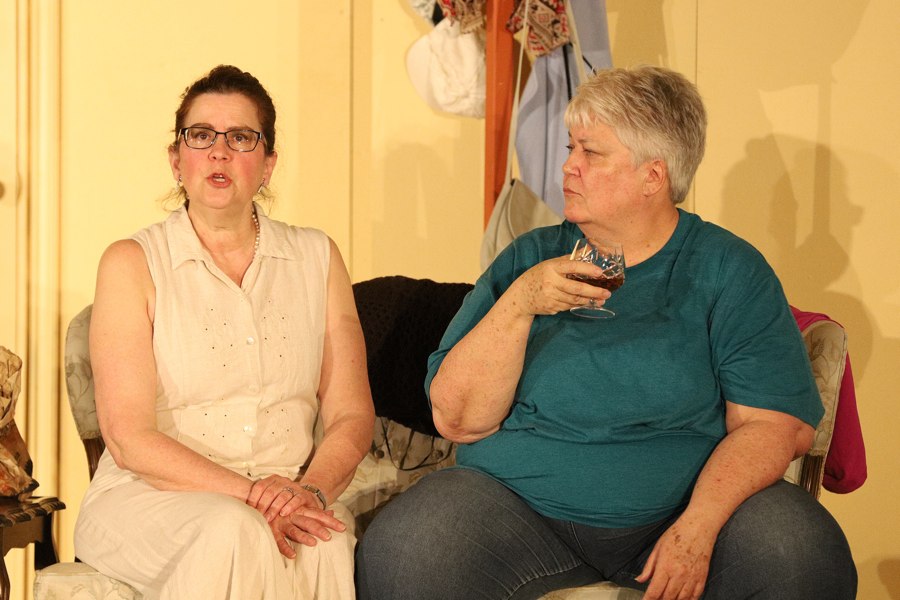 THE CEMETERY CLUB By Rod Urquhart Some really outstanding, quite believable acting highlights the current presentation of Ivan Menchell's heart-warming, yet hilariously funny, 'The Cemetery Club', currently on stage at…